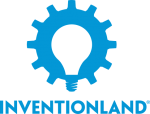 Last fall in our blog New Year, New Partners we shared a new partnership with Inventionland, one of the world's largest invention factories and our role as primary training provider in Ohio, Michigan and Kentucky for their top notch inventing inventing, making and storytelling curriculum. This fall Kenton City Schools in Hardin County will become Ohio's first district to offer the Inventionland Institute Innovation courses. Superintendent Jennifer Penczarski welcomes visitors across the state to stop in next fall to see how Kenton elementary and middle school teachers use these courses to expand maker education opportunities K-8. Districts and STEM schools in central, northeast and southwestern Ohio are also expected to begin offering Inventionland Institute Innovation courses (K-12) next year.
Given this excitement, Inventionland Institute began conversations with EnvisionEdPlus and the Ohio Small Rural Collaborative  to identify ways to bring the Innovation courses to small schools and rural communities.
EnvisionEdPlus is thrilled to announce two new opportunities for our partners to engage with Inventionland.  Kirk Koennecke, Executive Director of the Ohio Small Rural Collaborative told us "We are thrilled to partner with EnvisionEdPlus and Inventionland to offer low-cost, quality professional development opportunities that bring equity an access to our OSRC members!  We can't wait for our schools to access additional grant funds either."
FREE Day of Innovation Professional Development for Ohio Small Rural Collaborative members

Who: District and school administrators (but teachers are welcome too)
When: Wednesday, June 13 from 10am -3pm (includes FREE lunch!)
Where: Inventionland (585 Alpha Drive Pittsburgh, Pa, 15238)
What:  Explore one of the most creative workplaces in the world. Engage in hands on design thinking challenges to use with kids and teachers.  Discover Inventionland Institute's K-12 Innovation Courses.  Learn how Inventionland and EnvisionEdPlus can support student learning, teacher PD, makerspace and creative learning space design.
 Inventionland Institute Small Rural Schools/Programs Grant.

Any LEA or not for profit out of school time program provider that meets Inventionland's small or rural organization criteria is eligible to apply for these grants. If awarded, grantees will receive up to a 50% discount on an Innovation Course 2-year site license and a 10% discount on all optional teacher and student resources.
Grant applications are accepted on a rolling basis and reviewed at least quarterly.

2018 Deadlines: March 31, June 30, September 30, December 31

Feel free to download the Small Rural Schools Grant application to learn more. You can also contact Karen Hanchett, Inventionland Institute's Director of Business Development (hanchett.karen@inventionlandinstitute.com or 1-800-585-8434).
Any EEP team member can also lend a hand or answer questions, so feel free to give Tricia, Craig or me a shout too.
~Michele Timmons, President
michele@envisionedplus.com (614.893.7341)