High-Quality Professional Learning
"We used content learned during the LaunchPad sessions and the ongoing support from Envision Ed Plus to create, develop, and implement our entire vision for the college and career planning"
"The facilitator "gets it". He's not just knowledgeable, but he has real-world experiences and can apply them as needed. He was very engaging and made me feel comfortable and therefore, invest more in the presentation."
We offer learning sessions that are fit for your needs.
Asynchronous training with PDPlus
We have a growing menu of online, job-embedded training through our learning management system. Our competency-based training system embodies the characteristics of high-quality professional learning as described in the Every Student Succeeds Act. All courses provide resources and assignments so that participants can apply new concepts to their instruction or classroom management strategies. Participants earn credit by uploading evidence of their application of learning, reflecting on their experience, and providing feedback to other participants. 
Synchronous Training Sessions & Series
EnvisionEdPlus provides a wide variety of training sessions in leadership, instruction, curriculum, and support for students. Talk to us about the needs of your school or program. We can customize training to fit your schedule and cover topics that will have the most impact on your success. In addition to our offerings in STEM, arts integration, partnership development and more, we partnered with other experts to provide specialized services. We also offer FREE pre-apprenticeship, learning community to STEM classes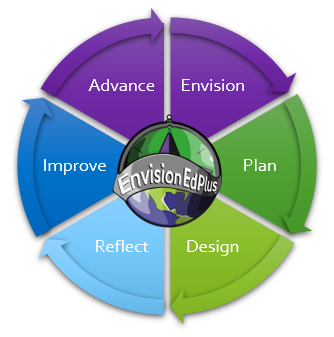 EnvisionEdPlus will work with your team to design solutions that build on your strengths while meeting your needs. We embrace design thinking to keep us focused on results, flexible in our methods and strategic in every decision.