The Ohio Department of Education (ODE) plans to open its new Stronger Connections Grant program in early 2023. While important details are still being finalized, I participated in last week's stakeholder feedback session, where ODE staff provided a great deal more information than previously had been available. Read on to learn scoop… 
What is the funding source and purpose? 
This is federal money, awarded to the State of Ohio to provide safer and healthier learning environments for students. The Stronger Connections Grant (SCG) was authorized in June under the Bipartisan Safer Communities Act (BSCA), Public Law 117-159. Ohio received an SCG award of $35,078,494 in September. The SCG is a supplement to the Title IV, Part A, Student Support and Academic Enrichment (SSAE) program. Ohio's award is to be distributed to public schools that ODE defines as "High-Need" for school health and safety through a combination of qualified and competitive grants.
What schools are eligible applicants? 
Only Local Education Agencies (LEAs) that are eligible for Title IV-A funds may receive Stronger Connections Grant funds. This means ONLY traditional public school districts, community schools and independent STEM/STEAM schools are eligible applicants. 
Educational service centers, non-profits and other organizations are encouraged to collaborate with eligible applicants, but cannot submit their own applications. 

Equitable services outreach is required, so non-public schools should receive notification of this opportunity from their neighborhood public school districts or schools. Non-public schools may choose to participate or decline the opportunity. 
How is ODE planning to define 'High-Need'? 
This has not been finalized. During the stakeholder feedback session, Department staff indicated that ODE believes all schools need health and safety resources and is considering a tiered approach to allow those with the greatest need to receive support. The proposed approach includes three tiers:
Tier 1

. Every Title IV-A eligible LEA in the state would receive as much as 50% of the LEAs Title IV-A funding in FY2023. An application would have to be submitted, but all eligible applicants would be awarded funds.
Tier 2

. Only eligible LEAs that also have high chronic absenteeism data and discipline data will be able to apply  to receive these funds. An application would have to be submitted, but all eligible applicants who meet the criteria that ODE establishes for high chronic absenteeism and discipline, based on data submitted via EMIS, would be awarded funds.
Tier 3

. Any LEA could choose to compete for the final remaining funds for self-identified needs related to safe and healthy learning environments. These would be competitive grants.
How do we determine our tiers and amount of funds we can potentially receive? 
Some of these details are still being worked out, but in general, LEAs can estimate funds using their FY2023 Title IV-A allocations. ODE plans to calculate the base for each tier as a percentage of Title IV-A funds: Tier 1: 50%, Tier 2: 25%, Tier 3: 25%. One caveat that was discussed was that an LEA with less than $5,000 in Title IV-A funds be allocated $5,000 for Tier 1. 
Here are some scenarios to help you understand what this process is likely to look like. Note: ODE will actually load these budget amounts into your CCIP once the application period opens. You won't have to provide the data or figure out how much you can receive.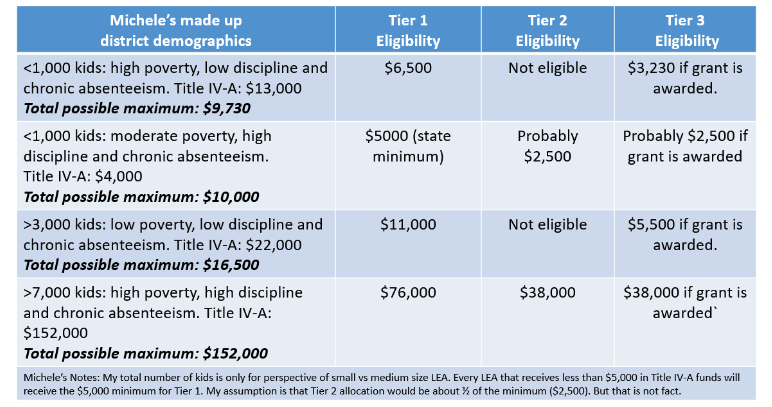 How can we use the funds? How long do we have to use funds? 
ODE intends for these funds to be very flexible and to meet your local needs. As per the federal definition, these funds can only be used to address needs related to student physical and mental health and for creating safe and supportive schools. Basically, you will be able to use funds to support anything that is allowable under Title IV-A. Funds must be encumbered by September 30, 2026 and expended by December 30, 2026. 
Does EnvisionEdPlus offer any services to support Title IV-A? 
As you know, EEP does not typically provide services directly to students, but our professional development and staff wellness support might be a great fit for many LEAs. 
Our PDPlus digital professional learning platform can be an amazing solution for personalizing professional development for your staff so they can access what they need – when they need it and learn wherever they want.  
Michele Timmons is a certified Staff Wellness Facilitator and can help you determine strategies to best support your staff so they can support students. 
Through our collaboration with Still-Light Seminars, EEP can connect your staff with dozens of learning support training opportunities including classroom management, staff wellness, conflict resolution, trauma skilled instructional practices, and family and community engagement.
Of course, if you need help writing applications for these funds, we are your Grant Gurus.
When will applications open?  When can we start using funds? 
We anticipate ODE will release a draft application via CCIP Notes in February. Applications will be submitted via CCIP.  I recommend planning to start using funds in FY24. Because you will have the ability to use funds through December 2026, I would not try to rush plans.  
So what is next? 
Watch ODE's CCIP notes. That is how they will share information. 
Notify your non-publics and start to identify who plans to participate. 
Keep an eye on our newsletter. We will share information as soon as we know it. 
Schedule a conversation with the EEP team to learn more about how we can help your LEA effectively use these funds to support the whole child – and your staff!