Flying to New Heights in Education
The EnvisionEdPlus team is so excited to announce a new project. Last week, it was announced that a $650,000 federal grant from the US Department of Education was awarded to the Trumbull County Educational Service Center (TCESC) to advance STEM education for middle and high school students with an emphasis on unmanned aircraft systems (drones) and entrepreneurship education! The Voltage Valley Droneproneur program is an innovative and groundbreaking way to engage the students of Trumbull County while fostering their creative thinking and problem solving skills, incorporating STEAM into their learning, and opening up new possible career paths to explore.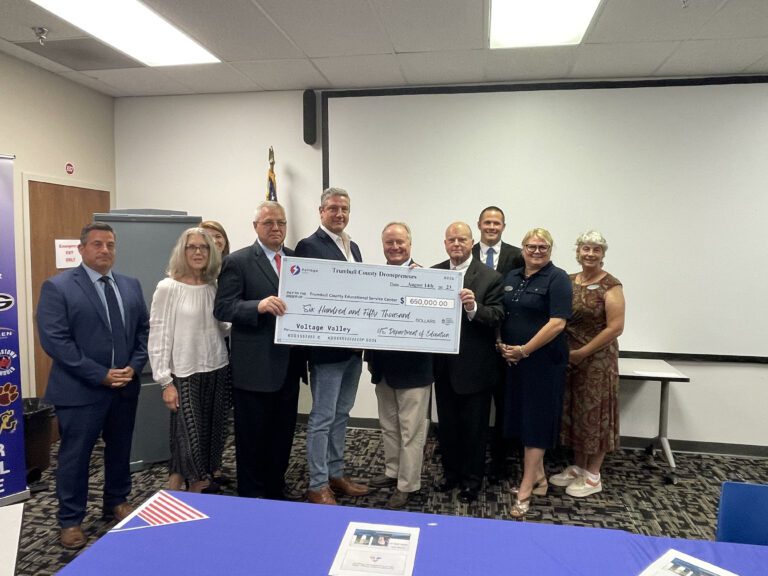 Robert Marino, TCESC Assistant Superintendent said "This initiative is not just about technology; it's about empowering our young minds with the skills, knowledge, and innovation needed to navigate the future. With hands-on training and a focus on industry awareness, we are confident that this program will elevate our students' potential and position them as leaders in the ever-evolving field of unmanned aeronautics." (Trumbullesc.org)
According to Indeed, drones are used across many different industries to efficiently help and safely solve problems. Some examples include;
Roofing – Drones can be helpful tools for quickly accessing roof damage and can also take measurements and even deliver materials to roofers on high levels. 

Photography and film – This might seem like an obvious one, but drones can get amazing footage from locations and heights that would be impossible to reach for humans. Whether you are a wedding photographer, real estate photographer, or anything in between, drones are the newest tools to help get the perfect shot!

Firefighting – Drones can now be used for accessing a situation, finding exits, locating fires that might be hidden in walls and ceiling, and they can even be used to help find victims. 

Linemen – Oftentimes, linemen need to climb to high elevations to inspect electrical boxes, wires, and equipment. Now, those working as linemen are able to use drones to get a good look without needing to climb all the way to the top.
The list doesn't stop there either. Drones are commonly used by police, delivery services, miners, constructions, military and so much more.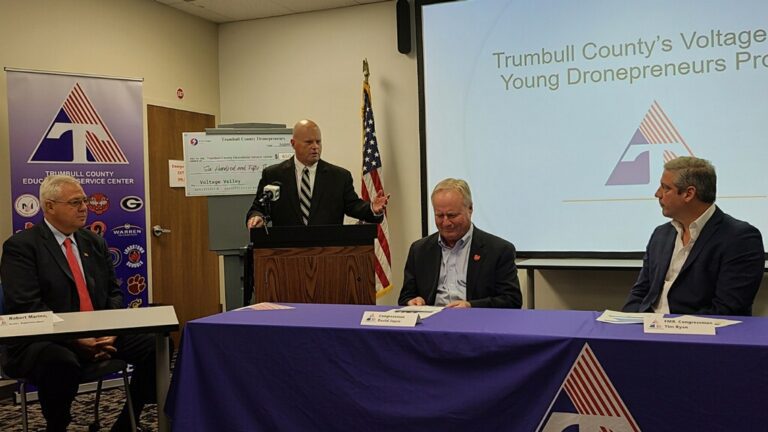 Our friends at TCESC are partnering with the Trumbull County Career Technology Center (TCTC) to transform an existing classroom into the Advanced Unmanned Air Mobility Center. This new space will become a state-of-the-art hub for TCTC students to conduct drone research, development, and testing as they prepare for dozens of in-demand careers in the unmanned air system field. 
EnvisionEdPlus is charged with collaborating with TCESC, TCTC and member districts to design state recognized  pre-apprenticeship program that will offer students hands-on training and work-based learning through which students can earn industry recognized credentials and the OhioMeansJobs Readiness Seal while exploring the diverse career opportunities with drones, entrepreneurship and other in-demand jobs within Voltage Valley such as those available in the lithium battery and electric vehicle fields.
The Network for Teaching Entrepreneurship (NFTE) is taking their great Emerging Entrepreneurs program and kicking it up a notch so Trumbull County middle schoolers can learn about entrepreneurship and how it can link to the drone industry. We can't wait to watch kids doing their innovation pitches next spring! 
Lastly, they are even expanding their Drones in Schools Racing League! This awesome opportunity will allow even more high school students to practice and test their drone flying skills through regional and possibly national competitions. 
With all of these fun, new and exciting opportunities for students, we are so happy to be a part of it all and can't wait to see where this takes Trumbull County's youth! 
But wait… there's more! Next summer, EnvisionEdPlus will be hosting a 2-day K-8 career awareness summer institute to help any Ohio school/district deepen their understanding of how to create a comprehensive K-12 career awareness/ readiness system. Watch our newsletters this winter so you can get registered.